The Journal
Meet our Retailers: Chewton Glen
This month's 'Meet Our Retailers' interview takes us to Hampshire, where Chewton Glen, a beautiful country house hotel, stands on the edge of the New Forest. As well as its luxury rooms, the hotel ...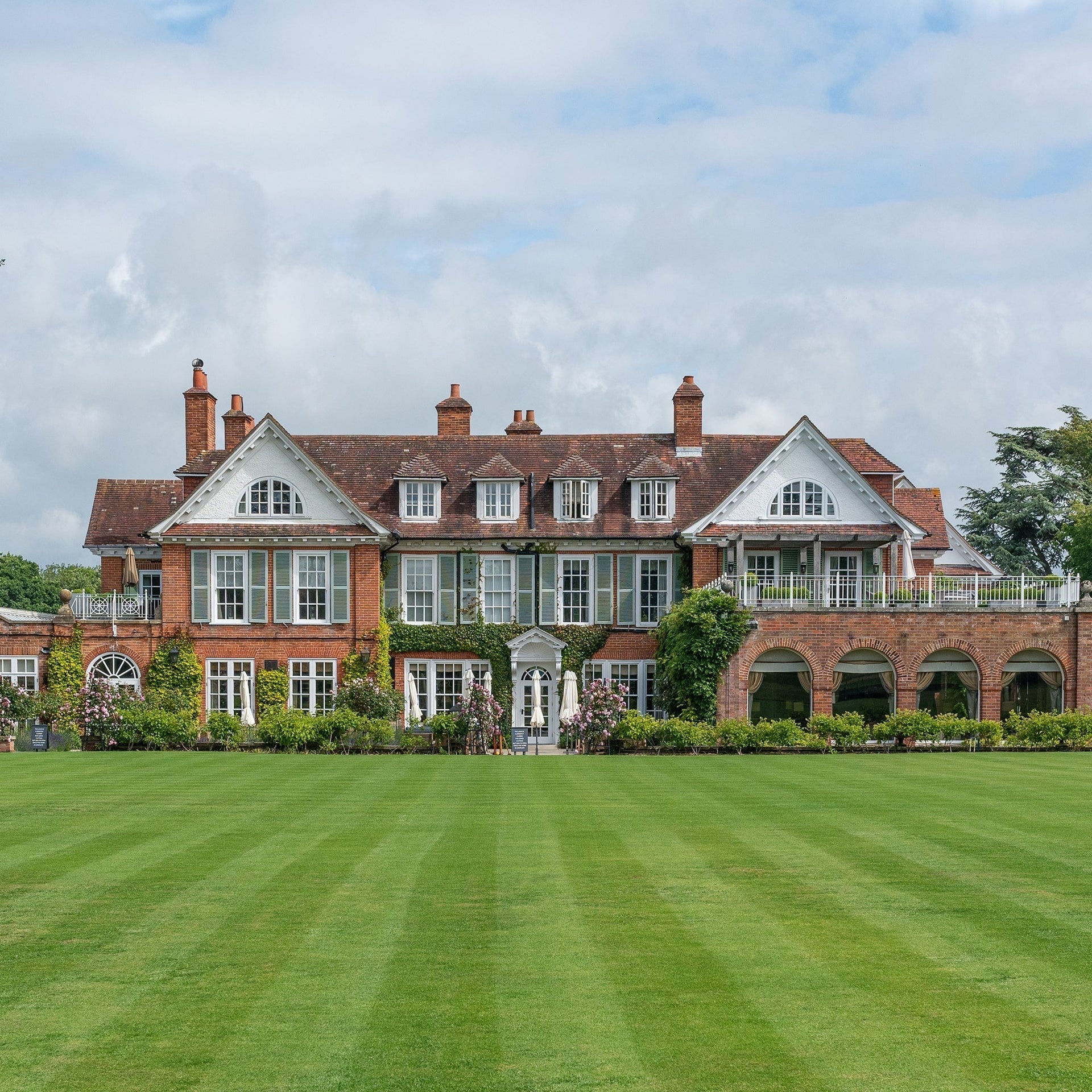 This month's 'Meet Our Retailers' interview takes us to Hampshire, where Chewton Glen, a beautiful country house hotel, stands on the edge of the New Forest. As well as its luxury rooms, the hotel boasts a spa, its own cookery school, multiple sports facilities, their very own 'treehouse suites' and a boutique, which stocks many of our bags among other sustainably-driven brands. I chatted to Keely van Dam, Boutique Manager, and Angela Day, Head of Public Relations for Iconic Luxury Hotels, about what makes Chewton Glen so special.
The Cambridge Satchel Co.
First things first: what are your favourite features of the hotel?
Keely van Dam
I love the grounds and the walled garden. We've got a fantastic estate manager, Darren Venables, who has been here with us for 30 years, and the amount of work he and the team put in is incredible. They create something beautiful and spectacular no matter what time of the year it is. Just today, the Christmas decorations and trees have been displayed in the hotel and the grounds, and it simply looks stunning.
Secondly, but just as importantly, it's the team of people that we have here. That's what makes Chewton Glen different and special. It is like a family, and that's the welcome that we want to give to our guests.
Angela Day
There really is so much that is special, but two of my favourites are the first view of Chewton Glen you see when you come down the main drive, and there's a little bridge where you can look up and see Chewton Glen up on top of the hill. That just sets the scene.
Secondly, the thing I love most - and it's totally ridiculous - is the front door. I love it when you arrive and walk through the double doors and see the hotel opening out ahead of you. It just feels like coming home.
CSC
Could you tell me about your Treehouse Suites?
AD
The Treehouse Suites are really stunning; we wanted to do something a little bit different, something that people weren't expecting. We had a secluded valley that was just sitting there in the hotel grounds, with beautiful trees and a little river running through it. So, about 10 years ago, the treehouses were built on stilts that rise out of the floor of this valley. The accommodation is set high up in the tree canopy, so when you're staying there, you have a feeling of being totally secluded, embraced by the trees. There are these wonderful decks where you can sit in your own personal hot tub and look out at the trees blowing in the wind. We've seen idyllic posts of people sitting in their hot tub sipping champagne and watching the snowfall in winter.
We wanted them to be very environmentally friendly and meet our sustainability goals. We don't have guest vehicles going down to the Treehouses, when a guest arrives, they're taken down to their treehouse by an electric buggy, and they love it. Then you go across a gangplank-like walkway that takes you into the Treehouse, each of which has two separate suites, and as you open your door the first thing you see is the wonderful view of the trees through the floor to ceiling picture windows. Wherever you are in the suite, you can see nature, the seasons and the stars, it really is remarkable.
Breakfast is delivered by a hamper in the morning, so you don't have to get dressed and go to the restaurant. Our team comes down early in the morning and brings wonderful hampers full of goodies for breakfast, so when you're ready, they're there behind a secret hatch for you. You can have spa treatments and have dinner served down there too, or you can go up to the hotel itself for those experiences - the choice is with the guests.
CSC
What is going on at Christmas at Chewton Glen?
KvD
Christmas preparations began in the early Summer for me in the boutique, researching and sourcing new products and suppliers. Our Festive Gift Fair at the beginning of November marked the start of the festivities, and now the decorations and lights are up, it's really all in full swing. I have concentrated on gifting for the Boutique, electing to follow my beliefs in minimal wastage and quality alongside longevity.
AD
As Keely said, Christmas starts early at Chewton Glen, the whole of December is a celebration with guests enjoying catching up with family, friends, colleagues and loved ones. The Dining Room Restaurant and The Kitchen, our informal restaurant, have special festive menus for guests to enjoy; afternoon tea with all the seasonal trimmings is really popular and the lounges are full of guests popping in for morning coffee and a catch-up with friends in the midst of sorting out their Christmas shopping. In fact they often pop into the Boutique and complete a few last minute purchases.
Our Christmas House Party starts on Christmas Eve. It's a three-night celebration that has become a tradition now. We have Carols on Christmas Eve as guests arrive with mince pies and mulled wine. Father Christmas even visits on Christmas Day. Guests can decorate their own Christmas trees in their bedrooms and suites, or that can be all done for Chewton Glen's team before they arrive.
We have wonderful celebration dinners and live entertainment, and our team is brilliant. They make Christmas very special for guests. We even managed to entice the chefs out of the kitchen to meet the guests and join in the celebrations. Many people re-book for next year before they check-out this year, so we have many regular guests and new friends. It really is a wonderful way to spend Christmas - especially without having to do the washing up!
CSC
Angela, could you tell me anything about the different activities that are on offer at the hotel?
AD
Absolutely, there are a myriad of things to do, we have a purpose-built cookery school and second informal restaurant run in association with James Martin. It is open-plan so you can see the theatre of our team working to prepare your meal straight ahead of you. Or, if you glance to the right through the glass partition, you can see right into the cookery school where our Chef Tutor is running his classes. There are ten individual workstations where we run a program of cookery classes for children, adults and families and corporate groups. It's very enjoyable and pitched at the correct level for those attending.
In terms of other facilities, we have a purpose-built indoor tennis centre with two indoor and two outdoor courts, with classes for children, adults and families. We have a nine-hole, par 3 golf course and a croquet lawn, too. We have fun activities like walking with our own Teddy Bear Sheep, which people love, and we can also offer falconry, duck herding, ferret racing and all sorts of fun stuff! But with 130 acres of grounds, health and wellness activities form a key part of our offering with jogging and nature trials, outdoor fitness classes and personal training, yoga and exercise classes all available.
We also have a program of special events throughout the year. We've just had a wonderful event for Halloween in our walled garden, which we turned into the Witch's Garden. There was storytelling for children, face painting and lovely food and some spooky activities.
You can do almost anything at Chewton Glen. We want to make sure that we do the very best we can for everybody.
CSC
What are you doing for sustainability in the hotel and in the boutique specifically?
KvD
I've come in and I've taken a very personal approach. I've been given free rein to deliver a sustainable, ethical and responsible vision for the Boutique, and it has been a pleasure to bring on board suppliers that match that ethos and that are truly innovative in their approach. Some examples of brands that I stock are Alex Monroe, The Botanical Candle Co., Parterre Fragrances, Conscious Skincare and Waterhaul.
From a personal perspective in the boutique, the brands that I'm most keen to work with are those that are sustainable, that support local people, local jobs and British businesses. I've tried to bring on smaller-scale businesses to support the local community as well. Some of the companies I work with are British, but they support initiatives in other parts of the world. For example, I work with The Basket Room, who do amazing baskets and woven products. They're a fair-trade organisation that supports women across West Africa. It's about fair trade, in every sense of the word, whether that's fair to the environment, to our suppliers or to our community.
What's really important is the approach that you buy once and you buy well. We all need to be mindful of that and proactive in making those changes. That's what I love about The Cambridge Satchel Co. The bags are beautiful, they're handcrafted, and nothing is wasted. I was so impressed when I found out that the offcuts are made into purses or bookmarks. For me, that is a wonderful no waste approach, and I love the way in which you support local jobs with your own UK workshop. A leather bag as perfect as a Cambridge Satchel that gets better with age, that you know you're going to use for years, is what makes it so special.
AD
Historically, we've always been very environmentally aware, but we just didn't say a lot about it. We have always felt we are the custodians of our estate here at Chewton Glen and now we realised it is important to talk about what we are doing.
So, we got better at our communications and we've built teams within the hotel to look at all aspects of our work from the management of the estate, the fabric of the buildings, the purchasing of our supplies, right through to the public relations activities, marketing and sales and of course the retail side of things with our own Boutique. We've done a lot of work with different bodies regarding accreditations to highlight what we are doing. It is not just an exercise to tick boxes. We can't do everything but we do a lot and bit by bit will do more. That's a message that we're spreading across the whole of the Iconic Luxury Hotels family now. Every hotel is stepping up and doing the maximum that they can do in all areas of operation.
CSC
Keely, as Boutique Manager, do you have a favourite Cambridge Satchel Co. bag?
KvD
Definitely The Mini. I have it in Bonbon Matte but I have my eye on the Burning Ember now because it's just stunning. It's followed closely by the Saddle Bag, but I've also now seen The Mini Sophie too…
CSC
Do either of you have a song to contribute to our CSC Spotify playlist?
KvD
I love Roo Panes, he's a Dorset artist and his music is ethereal; it's amazing what he crafts. He's got a beautiful song called Ophelia which is just stunning. Definitely one to listen to in the evening; it's so peaceful.
AD
Anything by George Ezra! I also love 2Cellos and their modern covers.
—
So, whether you want to stay over at the hotel or visit for the day to try out a cookery class, make sure to stop by the boutique to say hello to Keely and peruse her carefully-curated selection of sustainable brands. You can find more information about the hotel via their website and Instagram.
Made in England
Sustainably Sourced. Exquisitely Crafted. Redefine Your Style Responsibly with Premium Leather Satchels.
Repairs Service
Sustainably Sourced. Exquisitely Crafted. Redefine Your Style Responsibly with Premium Leather Satchels.
Sustainably sourced leather
Sustainably Sourced. Exquisitely Crafted. Redefine Your Style Responsibly with Premium Leather Satchels.