Just like One Direction, Kate Winslet and Robert Pattinson, America loves our home-grown talent. And now the yanks are after our handbags.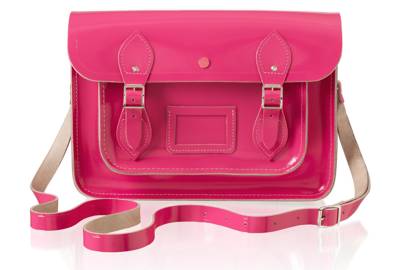 The Cambridge Satchel Company, the instantly recognisable satchel bags favoured by celebs, bloggers and a lot of us here at GLAMOUR HQ, has cracked America with a $21m (£12.7m) cash injection by Index Venture Capital
FYI, this is the same firm that has investments in ASOS, Net-a-Porter, Moleskine and Nasty Gal. So this is a pretty big deal.
The founder of The Cambridge Satchel Company, Julie Deane says she wasn't in a rush to find a backer and took her time finding a team that could help Cambridge Satchel Co. reach its growth goals. She told The Telegraph: "There's no way I'd let someone join the table if they couldn't bring more than just money. A chequebook is not a skill set."
Describing how The Cambridge Satchel Company first started back in 2007, Julie told Le Blow: "I hit Google and started searching - the internet makes so much possible - then I phoned bag manufacturers and leather manufacturers.
"Then I made the first website - a free tutorial on the web. I set myself a budget to start the business - £600 - and never went over it - or borrowed. I don't like risk, especially when it was my children's school fees…"
And do you know WHO Julie credits to making The Cambridge Satchel Co. the big deal that it is now? Celebrities and fashion bloggers: "I really appreciate and enjoy the many friendships made through this journey - Cambridge Satchel is about a lot more than selling satchels."
Now she has the cash for world domination, Julie has plans for a website redesign, and wants to double sales. There is also potential for a new store opening in the next year. As well as all that, she wants to bring on guest bloggers to build engagement.
Read the full article here